DM51
NON-PATTERN DRILLING MACHINE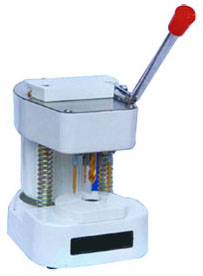 Character:
1.It is an indispensable machine to fully automatic edger.
2.Make direct drilling in the gasket.
3.The gasket can replace for die plate in use in the edger.
4.It saves the trouble of opening the mould.
5.It is practical,convenient and laborsaving.
Choose lens frame with supplementary lenses, drill three holes after that pupil height line and PD were drawn. And then replace the pattern, it can be directly installed and used at Edge.